Two treats in fact! Two fab new writing opportunities for young people.
Fighting Words are a powerhouse when it comes to encouraging creativity, and they are once again running their scriptwriting program, The Right Twig. This is a series of workshops where 8 young people (14-18) get to each write a short radio play over the course of 7 sessions that will then be broadcast with real actors, directors, and sound designers!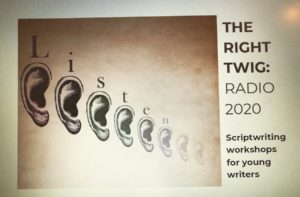 They've done a couple of these workshop series already, but for the stage. They were put on at the Lyric with professional actors and I was honestly stunned at the quality of the short plays they produced. It's an absolutely brilliant program where professional writers help the kids, who are total beginners, to develop an idea from scratch and write a whole play. I can't recommend this highly enough, the kids get so much out of it.