Two treats in fact! Two fab new writing opportunities for young people.
Fighting Words are a powerhouse when it comes to encouraging creativity, and they are once again running their scriptwriting program, The Right Twig. This is a series of workshops where 8 young people (14-18) get to each write a short radio play over the course of 7 sessions that will then be broadcast with real actors, directors, and sound designers!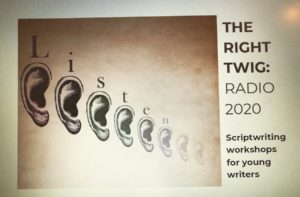 They've done a couple of these workshop series already, but for the stage. They were put on at the Lyric with professional actors and I was honestly stunned at the quality of the short plays they produced. It's an absolutely brilliant program where professional writers help the kids, who are total beginners, to develop an idea from scratch and write a whole play. I can't recommend this highly enough, the kids get so much out of it.
The workshops are free and run from 25th October to 13th December. You can write to fightingwordsni@gmail.com for more info or register your interest in the project here by Friday 16th October. Places are limited so get in quick.
And if 2020 hasn't scared you enough, Halloween is coming! Halloween is always a great time for themed writing and Paper Lanterns literary journal are having a Halloween-themed poetry competition with teen and adult categories. Entries are 3Euro but they also sponsor submissions from people who can't afford the entry fee.
The deadline for this creepy competition is 25th October. DEAD-line. Geddit?
If you're looking for Halloween writing inspriation, there are loads of prompts online:
7 here: https://thewritepractice.com/halloween-writing-prompts/
31 here: https://hobbylark.com/writing/31-Horrifying-Writing-Prompts-to-Help-You-Scare-the-Bejesus-Out-of-Yourself-This-Halloween
50 here: https://www.bryndonovan.com/2016/09/19/50-spooky-writing-prompts-for-horror-thriller-ghost-and-mystery-stories/
64 (!) here: https://icebreakerideas.com/halloween-writing-prompts/
OK, that's probably too many.
My personal favourite is this one:
Take some slips of paper and write a different genre of writing on each (e.g. Romance, Sci-Fi, Crime, Climate Change Fiction, Poetry, Western, Fairy Tale, Myths and Legends, Fantasy, Historical, Thriller, Action Adventure, Superhero, Fan-Fic, Dystopian, Magic Realism). Everything except 'Horror'. Put the genres in a hat and have everyone choose one. Pair your chosen genre with 'Horror' to write a Halloween-themed piece with a twist that'll make it stand out among all the usual ghost stories.
Or just let your young writers loose and let them do their own thing!
In other news, I wrote an article for the Arts Council reflecting on my first year as Children's Writing Fellow and my thoughts on creativity in a new school year full of restrictions and pressure. It was actually very nice to look back over last year, as it went by in a bit of a blur! You can read it here.