The Blank Page is a blog created by Kelly McCaughrain, Children's Writing Fellow for Northern Ireland, as a support and resource for Librarians and Teachers running Creative Writing Groups in post-primary schools.
This project is supported by the National Lottery through the Arts Council of Northern Ireland's Support for the Individual Artist Program, and by the Seamus Heaney Centre at Queens University Belfast.
To read all the posts from the beginning, click here.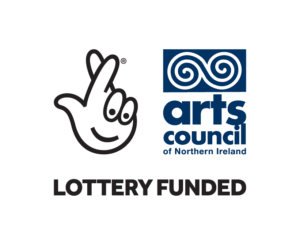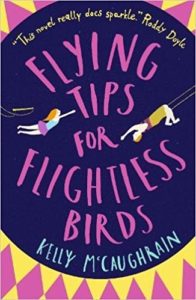 "This novel really does sparkle. It is witty and clever, and packs a very well-aimed punch." – Roddy Doyle
"This book made me want to run away and join the circus. A delightful read about accepting and embracing the qualities that make us unique; Kelly McCaughrain is one to watch." – Susin Nielsen
"A quirky and complex story, told with an elegant simplicity that hooks you from the first few pages… Vibrant, funny, moving and thought-provoking." – The Bookbag
Kelly McCaughrain is a Young Adult writer from Belfast and has been writing since she was six years old. She studied Creative Writing at Queens University Belfast and in 2013 she was shortlisted in The Times/Chicken House Children's Fiction Competition.
Her first novel, Flying Tips for Flightless Birds was published by Walker Books in 2018 and has gone on to be nominated for the Carnegie Medal and won the Children's Books Ireland First Novel Award, Children's Choice Award and Novel of the Year Award as well as the Northern Ireland Book Award.
When she's not writing she enjoys reading YA, gardening, travelling in her 1967 VW Campervan, and blogging about all these things.
The Seamus Heaney Children's Writing Fellowship
The Fellowship was created as part of Queen's University and the Arts Council of Northern Ireland's (ACNI) joint ten-year Seamus Heaney Legacy project supported by the Atlantic Philanthropies.
Kelly follows inaugural Children's Writing Fellow Myra Zepf, who held the post for the last two years. Kelly will be based at the Seamus Heaney Centre at Queen's for two years, working with students and engaged in outreach activities.
Speaking about the appointment Kelly, who graduated with a BSc in Psychology (2000) and a BA in Creative Writing (2016), said: "I feel so honoured to have been invited to be the next Children's Writing Fellow for Northern Ireland. It's a wonderful role and I applaud The Seamus Heaney Centre and the Arts Council for creating it.
"Reading offers so many benefits to children's development, and therefore to our whole society. Children's literature is something that should be valued and promoted, and I'm thrilled to see that happening in Northern Ireland.
"We have some truly inspiring organisations, teachers, librarians and writers already working hard to promote children's literacy and reading for pleasure and I'm really looking forward to working with them and learning from them and I hope that I can use my fellowship to support them.
"This is an opportunity to do something really special and I think it's going to be an adventure!"
Professor Glenn Patterson, Director of the Seamus Heaney Centre at Queen's, said: "We look forward to welcoming local writer, Kelly McCaughrain, to the Seamus Heaney Centre at Queen's and working with her over the next two years as the next Children's Writing Fellow for Northern Ireland.
"Kelly is a wonderful writer and I know she will inspire many children and young people to take an interest in creative writing and reading more books."
Damian Smyth, Head of Literature and Drama at the Arts Council for Northern Ireland, commented: "We are delighted to announce Kelly's appointment today as the new Children's Writing Fellow for Northern Ireland.
"Working with primary and secondary schools, she will promote reading for pleasure, encouraging children of all ages to discover the joy of books, as well as embarking on their own story-telling adventures."