When I started this year as Children's Writing Fellow I had no idea what to expect. But I bet none of us expected to be ending the year like this!
It's been an absolutely mad year but also really wonderful and I just want to say thank you so much to all the schools who've contacted me and used the blog. The thought that there are new creative writing groups being set up around NI makes me so happy! I hope they run for years and give lots and lots of young people opportunities to be creative, and all the benefits that creativity brings.
And if you're in any doubt about what those benefits are, here's a great article from Penguin on why storytelling matters, including some brilliant tips for helping a young writer find their voice.
"Writing stories gives children a sense not only of what they can do as writers, but also what they can do in the world."
I hope The Blank Page has provided some useful tools, ideas and resources, but most of all I hope I've convinced you that it's not hard to run a writing group and that your young people will get SO MUCH out of it. I know how grateful I would have been as a teenager to have had one, and I would love it if every teen in NI had that opportunity as part of their school week.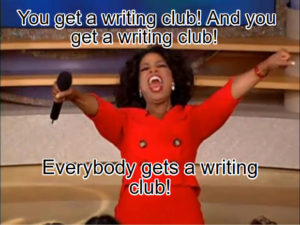 So that's largely it from me for this year, though I will keep occasionally posting anything I come across that might be useful, and the blog will remain online for groups to use in the years to come. I hope it'll be helpful, and do feel free to get in touch if there's anything you'd like advice on.
I know there were some schools I didn't get to visit due to Covid but (time and restrictions-depending) we can maybe arrange something for next year so do get in touch when things are back to normal. I think the next school year is shrouded in a bit of mystery for all of us so I don't know exactly what I'll be doing with my Fellowship in 2020/21 but I can't wait to find out!
So well done everyone for making it to the end of term! Especially all the homeschoolers and remote-teachers and virtual writing clubbers. We definitely deserve a great summer.
And a HUGE thank you again for being part of this, and for making this year so incredible!