As it's WORLD BOOK DAY (!!!) I've been writing articles for a couple of newspapers about encouraging kids to read, which basically means me banging on about getting parents to read. (If you treat reading like it's 'Kids Stuff' or 'Homework' or 'A Less Valuable Use of Your Time Than Facebook', then your kids will see it that way too.)
It occured to me that we could say the same about writing and creativity in general. I was also inspired by this blog post by the wonderful NI children's writer, Sheena Wilkinson.
Sheena, as well as writing many wonderful books (new one launched today!!!), used to be an English teacher and has taught creative writing workshops for years. I recommend the blog post (and her books), but to summarize, she says that in a survey of secondary school teachers she once did, she found that:
"The vast majority admitted to feeling underconfident when it came to teaching creative writing. Most had not themselves written creatively since GCSE days, having studied English Literature only for A level and at university. Every year I give a short creative writing workshop to PGCE English students: two hours out of a year-long course. (It used to be three.) The students seem to enjoy the chance to write, but it's a hard sell to make them see it as important. They think it's a bit of a jolly, not to be confused with real work. And they are always more concerned about how they can use the skills and insights in the classroom than recognising their intrinsic value for them."
In our writing group I've always felt it was important that the volunteers be seen to be writing or reading along with the kids. Not chatting, answering emails, scrolling on phones or catching up with work. I want them to see that writing and reading are not just things you're made to do in school and then can leave behind when you're an adult like calculus and Latin vocab. I want them to see adults writing, adults having a bad writing day, adults coming back next week and trying again.
You don't have to be a writer to lead a writing group. You don't have to be a 'Writer' to do some writing either. Why not give it a go yourself? At the very least, you'll have more of an understanding of what your young writers are going through when they pick up a pen, when they overcome their inner critic long enough to put words on the page, when they are brave enough to read their work aloud, when they make time in their busy lives to come to a writing club. You might even find it's as beneficial for you as it is for them!
Sheena also notes that, although there are wonderful initiatives out there to encourage creativity in schools:
"Increasingly these initiatives are in primary schools, not secondaries 'because we don't have time for that', and usually when I am delivering the workshop the class teacher is marking, or on the computer. Understandable given their workload, but it reinforces the idea that creative writing isn't really important, or something you would do as part of normal life, or continue to do as an adult."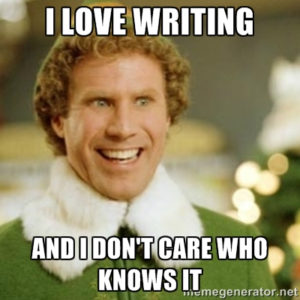 If writing really isn't for you, then that's fine. But maybe read something instead. Read some YA. Ask them to recommend some YA. Be part of their group, not just the leader of it, and show them that reading and creativity is as valuable in adulthood as it is in childhood.
I suspect the root of all of these problems is that, for all our ranting about the importance of reading and creativity for kids, maybe adults don't really believe they're important at all. We certainly seem to think they're less important the older you get. Not important enough to continue into secondary school. Not worth making time for in adulthood.
Recently I was talking to someone about how adults will blithely walk into the room where our young writers are writing and not even lower their voices. We're in a slightly public space, which we love and are grateful for but it's a community centre and people will walk through while having conversations, answer their phones, have meetings, even play music. I'd always just accepted this as part of the nature of the space but my friend pointed out that if we were a group of adults sitting around a table working, people would have a much more respectful attitude towards the work going on, and that this is just typical of the way we treat young people and anything they're involved in.
I think she may be right, and if we treat reading and creativity as 'kids stuff', then kids will pick up on that and see it that way too. They want to be adults. They want to be like us. And if that means treating books and writing like they're childish, or luxuries we don't have time for, or less important than our phones, rather than valuable parts of our lives and continuing development, then of course they're going to quit the moment they leave school.
I'm as guilty of this as anyone. Adult life is busy and I don't read or write half as much as I should and I know if I put in a bit more effort I could make more time for it. But I do make sure that my young writers see me and the other volunteers reading and writing.
I visited Sullivan Upper this week where they told me that when they have someone in to give a writing workshop they invite the staff too. So adults come and participate and write along with the kids. I thought that was the best idea ever!
So be the change! Be the adult you'd love to see them grow into. Ask yourself if you really do value creativity, and if you do, then give yourself the gift of making time for it in your own life. And maybe you could make your writing group open to staff members who'd like to do the same!