I did a BA in English and Creative Writing at Queens University Belfast and I loved it. But I did it as an adult because when I left school I'd never even heard of a degree in Creative Writing. There wasn't a course in Belfast, as far as I was aware, and no one told me anything about it at school.
These days loads of universities offer creative writing, including QUB (hurrah!) so today on the blog I've got Glenn Patterson, author of many many wonderful books, and Director of the Seamus Heaney Centre at Queens, who has kindly agreed to answer some questions that might help you make your decision. Thanks Glenn!
Why should I study creative writing at university?
It might sound like an odd thing to say, but first and foremost studying creative writing will make you a better reader. By thinking about – and talking about – your own writing, and the writing of fellow students, you will have a new understanding of how other, published works came into being: the decisions their writers made along the way. It will, undoubtedly, make you a better writer too, or help you to see how to become the best writer you can be. But being a good reader – someone, that is, who is alive to language, its uses and abuses – strikes me as no small benefit in a world where you are constantly assailed by text of one kind or another.
What happens at a university creative writing class?
Most creative writing classes are focused on the students' own work. So, usually, a small number of pieces are submitted each week, and circulated in advance of the classes, for group discussion. There will also, though, be other classes in which students are introduced to certain aspects of the craft of writing. The first-year Introduction to Creative Writing class at Queen's brings all students together for lectures, given by the poets, playwrights and prose writers from the university's Seamus Heaney Centre, with follow-up workshops where you get to try out different forms and genres.
How did you learn to write?
Like a great many writers, I suspect, I can't really remember a time when I didn't write – certainly I was doing it in primary school, although then I would probably have called it just making up stories. I won't say I didn't think seriously about it, but there were lots of other things I was just as interested in. When I did start to talk about 'wanting to write', people assumed I meant become a journalist and, because they assumed that, I started to assume that too. Just after I left school, though, I heard about this course in the University of East Anglia, in Norwich, where you could do a whole degree in making up stories. That wasn't strictly true (the whole degree bit, I mean), at least not then, but they did have a Master's degree – MA – in Creative Writing: the first one in the United Kingdom. (This was way back in the early 1980s.) So, I went to East Anglia and wrote lots and ended up on the MA with five other students and had the best year of my writing life – because the tutors, who were both very well-known writers, treated the six of us not as students, but as fellow writers. I began a novel there, called Burning Your Own, which I was fortunate enough to find a publisher for soon after I finished the course. So that was me started.
Can you recommend a book about creative writing?
You can learn a huge amount just by opening up a novel, or a book of short stories, or a poetry collection, or the text of a stage- or screenplay. Take time to look at the page. Be aware of things like dialogue – how do writers set it out speech and indicate who is speaking? (it might sound straightforward, but there are many ways of doing it) – or the way they divide up the book: do they use sections, chapter names, or chapter numbers? All of these contribute to the reading experience, and all of these are techniques you might one day want to use yourself.
As for 'how to' guides, Andrew Cowan's The Art of Writing Fiction is a good place to start.
Will studying creative writing help me get published?
It would be a false promise to say that studying creative writing will help every student get published: there are creative writing courses in most universities in Britain and Ireland, with scores, possibly hundreds, of students taking them every year. What it can do is make sure that when you send a poem or a story or a novel out to a publisher or a commissioning editor it is the best possible work of which you are capable at that moment. I always tell students that rather than focus on making a living from writing they should think about making a writing life for themselves: if you feel the need to write then how best can you fit it in with the other work you might do, or fit other work in with your writing? A former student of ours recently signed what is referred to as a 'six-figure book deal', that is she was paid over £100,000 for a single book. Others will publish for years – online, in magazines, and even in book form – and never be paid anywhere remotely close to that. And they can equally count themselves to have enjoyed success, and to have enjoyed writing.
Will studying creative writing help me to get other kinds of jobs?
Anyone who has studied creative writing will have gained certain valuable skills in the use of language, the organisation of words on a page, or a screen, for maximum effect. So many jobs now depend on conveying information in one form or another. Clarity, precision, and originality of expression are all in greater demand than ever.
What kinds of writing can I study at Queen's?
Creative writing is evolving all the time. At Queen's, students will be introduced to poetry, fiction, playwriting and screenwriting, but will also be able to work with songwriters, as well as writers who are working on video games (and board games), and the new 'immersive' technologies: Virtual Reality and Augmented Reality. We work very closely with people like the Lyric Theatre and Northern Ireland Screen, which is the body that encourages and supports film here.
How can I get the most out of my creative writing degree/MA?
The way to get the most of it is to put the most into it. Take part in as many of the activities that are offered alongside your taught courses as possible. In the Seamus Heaney Centre at Queen's in the last couple of years you would have had the chance to go to workshops with Lisa McGee, the writer of Derry Girls, and Jed Mercurio, writer of Line of Duty, or even have a one-to-one chat with Iain Archer, the songwriter who co-wrote 'Hold Back the River' with James Bay (viewed by 210 million people), and 'Run' with Snow Patrol (just the 43 million views so far).
Do you get writer's block and how do you deal with it?
It doesn't matter what job you do, or for that matter what your favourite pastime is, some days just aren't as much fun as others. Think of the times when writing does not come easily – or at all – as part of the rhythm of whatever you are working on. Pick up a book that you have been using for research, maybe, or look down your list of potential titles (you don't have a list of potential titles? Make a list of potential titles!), or jot down a few notes about one of your characters. Or get up and go for a walk. I've lost count of the times I have come in from just walking to the shops and written into the novel something I have seen or heard, or thought, along the way.
What's your top tip for a young writer?
Read as much as you can, or if you aspire to be a writer for a visual medium watch as much as you can. If this is the world you are going to be working in then the more you know about it – what writers are doing now, what they have done in the past – the better. If you don't like novels or short stories, you are unlikely to gain much from a creative writing fiction course, so be honest with yourself too. And, remember, words do not control you, you control words. Make them speak for you and your world, without fear.
Thanks Glenn, this is great advice! If you'd like more info about the courses at Queens, check out the Seamus Heaney Centre website.
And if you'd like some advice from someone who's been there and done that (i.e. me), here is it. I'm not as grown up as Glenn so mine has memes.
When I started at Queens I was absolutely terrified! Proper writers? Reading my scribbled rubbish? I had visions of them ceremoniously snapping my pencils, taking my thesaurus away and sending me packing.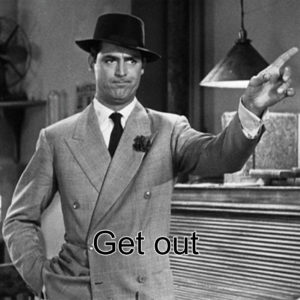 The very first time I had to show my writing to anyone involved me writing a poem (I am NOT a poet) and showing it to Sinead Morrissey. SINEAD MORRISSEY!
But I soon discovered that it's not that different from being in a writing group except that you get support from tutors who are published writers themselves (and therefore know how hard writing is and are more likely to sympathise than beat you round the head with a dictionary). You also get to critique each other's work, which is really helpful. You can learn as much from critiquing someone else's work as from having your work critiqued. And it's great to have three years where you're allowed, nay expected, to focus on writing.
I found the teachers supportive and helpful, but it's like anything – you get out as much as you put in. No one's going to wave a magic wand and turn you into a writer if you're not prepared to work hard. But I think this is a good thing because working hard, being self-motivated and independent are skills you need to learn as a writer. No one will give you a job as a 'writer', it's a freelance sort of gig, which means you write stuff and then attempt to sell it to a publisher/journal/magazine/theatre company etc. University study is a good way to learn that kind of self-discipline.
You'll also meet people who love books and writing, and it's important to have that kind of support and community if you're going to embark on a literary career.
I completely agree about writing making you a better reader and I think it works both ways. I found the English Lit modules as useful as the Creative Writing modules. You learn to write by reading, so studying the work of other writers is really important.
Of course it's not absolutely necessary to study writing to become a writer. Lots of published writers didn't. Lots of writers write for themselves alone and aren't interested in qualifications or publication at all. And studying other subjects can also be useful. When I left school I did a psychology degree and I loved that too. It's basically the study of why people do the things they do, which I believe is useful for any writer. A writer needs something to write about, so anything you study will eventually feed into your writing.
What I got out of my degree was brilliant feedback, encouragement, and time dedicated to reading and writing, not to mention a qualification in a subject I really enjoyed. Three years is a long time to study something you're not interested in, and you're much more likely to end up with good marks if you're having fun, so think very carefully about what you enjoy.
So thanks again to Glenn, and do pass this on to any young writers you know who might be considering studying creative writing at uni someday. Might be something to chew over during a long, hot, socially distanced summer!