Today on The Blank Page we've got special guest, Shirley-Anne McMillan to tell your young writers how to make their own Zines! She's even made a video!

Zines are basically mini books you can make yourself, on any topic at all. I've never made one but it looks like so much fun I might give it a go.
Shirley is a YA writer from Co. Down and I've LOVED every one of her books. She likes to tackle big issues like LGBTQ+ rights, social injustice, teen pregnancy, living in care, and she's as much of an activist in real life as she is in her books so she's the perfect person to give us some tips on how to use Zines as a way to respond to injustice and maybe even change the world.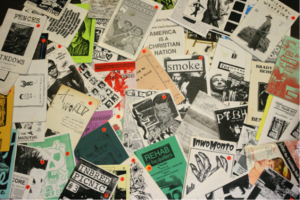 You could even make a Coronavirus/Social Distancing Zine! Someone said to me recently that we're basically living through a future GCSE History question. People will look back at this time as being historically significant and they'll want to know how we felt about it. So why not make a record. I'm keeping a diary myself, but if diaries aren't your thing you could make a Zine! I'll let Shirley tell you how…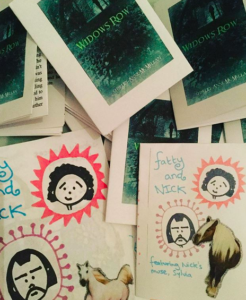 Zine-Making in Isolating Times – Shirley-Anne McMillan
My name is Shirley-Anne McMillan and I write YA fiction. My second book, The Unknowns, is the one that I think of most often in these weird, virus-cautious days. It was originally pitched as a dystopia to my agent- a story about NI in the near future, when all the arts had been shut down- I mean really shut down- the funding was gone and the government wanted to focus on industry above all else, so nobody was allowed to make art- it simply wasn't seen as important any more. In the cultural wasteland a gang of young people would meet secretly to produce and share underground art.
My agent said no. No dystopia right now (at the time everyone was bringing out dystopian novels and my book would have been out about two years after the interest had died down). She was right, of course, but I still wanted to write it. In the end I decided to keep my gang and focus on the dystopia of NI as it was at the time.
I am a GREAT complainer. I always have something that's making me really angry. I am always trying to keep a positive, cool, head because left to its own devices my head would be constantly raging. It comes naturally to me. I watch Henry Rollins videos to calm myself down. Anyway, I decided there was plenty of dystopia to be found in the present day: our society is so divided, so elitist. We have problems with racism. We blame all our ills on the young. We still have a massive problem with homophobia and transphobia. We still treat women poorly. So I wrote The Unknowns and kept the story pretty much the same, simply setting it in present times: a gang of young people get together in secret to do something about the problems they and their friends face in modern day Belfast.
When people ask me about The Unknowns sometimes they want to know if I made it all up. Were there elements of reality to the story? I tell them that almost every single action that the gang performs is something that I know happened in real life. Painting new graffiti over old in the dead of night. A biker gang community who make customised bikes. Ninja gigs. People trying to disrupt violence using music. The disruption of racist gatherings. Anarchy, organisation, activism, put to their best uses. I wanted the story to reflect things that ordinary people actually do. They might not be famous, they don't get called heroes, but they live these lives of thoughtful activism- asking themselves 'What is the situation before me? What can I do to stand in the way of this injustice? What questions must I ask of this?' and sometimes it is a very small thing. So I want to share with you today a very small thing that you can do. It's easy and fun and creative. It can bring joy, and life, and maybe it can change things politically for people too.
Here is my How-To video about making a mini zine:
Zines are the ultimate in radical self-publishing. They are the most accessible and cheapest way to create a hard-copy publication. They are easy to reproduce. They can be written quickly, or you can take your time over them. Some people sell their zines. Others distribute them freely. I have found zines that people have deliberately left around in art galleries, cafes, writing centres, libraries. I have been given zines in the street and in a queue for a gig- handed around by the band who were playing that night. Sometimes they are on a particular topic. Sometimes they take the form of a little comic book. Sometimes it's a collaboration between a group of friends. A drag queen friend of mine produced his manifesto as a zine which he could distribute at his gigs. Another person made one just for himself- a collection of personal items, like a kind of magazine scrap book. You can find fan-zines online about people's favourite bands including art work, fan fiction they've written, fantasy interviews etc. Some are just art. Some are just words. Some are info-zines explaining a particular political ideology. Some are mega-rants about the things that make the author most angry. Some are love letters. Some are tiny books of poetry.
Have a look on YouTube for various zine ideas and information about different kinds and sizes of zines. Use old magazine or papers for collage, use felt tips, do a whole zine in black and white. There are no rules. I love the mini zine so much because it's just on one side of the paper and if you have access to a photo copier you can easily have your own printing press. If you and your friends are keen you can get together and have a zine gang, swap them, make them together, have a new theme each month. Do a series of Social Distancing Zines that you can publish when this is all over and then hold a zine party when you get together and bring copies to swap. Please invite me to this party.
I hope that this post has inspired some to get making in these days of isolation. We're not really alone you know- we're just physically further apart. Imagine everyone writing, everyone drawing or cutting and sticking. We're going to produce art for ourselves and each other. If we can't send them now, we will post pictures online and send them physically later. The main thing is to get your hands involved directly with the paper- make your mark- and then share it.
Good luck and happy zineing! I have no idea how to spell that. Answers on a zine…
Shirley-Anne McMillan is an author of contemporary Young Adult fiction. She lives in Co Down with her family where she writes, tutors, and works in the local Integrated school as an Alternative Chaplain. Shirley-Anne's third novel, Every Sparrow Falling, was published by Atom in 2019.