Next up in my series of special guests on The Blank Page is the multi-talented Myra Zepf! Myra writes for children and teenagers, in English and Irish. Her latest picture book has been adapted into a beautiful dance performed at the Ulster Folk Museum and her verse novel for teenagers is up for the Children's Books Ireland Book of the Year Award.
She was the first Children's Writing Fellow for Northern Ireland and with 5 (!) teenagers at home, she's the perfect person to share her advice for young (or young at heart) writers in these strange days we find ourselves in. I think (after I deliver my parents' shopping) I'll be taking her advice today myself!
Thanks for being here (in a virtual, socially-distant way) Myra!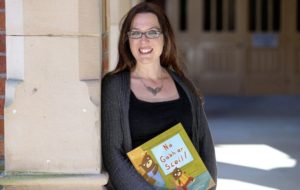 Writing without words – Myra Zepf

We're stuck at home in Coronavirus-quarantine. Five teenagers and two wildly juggling working parents trying to keep this show on the road.
I'm trying to write something and I have a deadline. But in this new communal sardine tin of home-schooling, home-working and home-socialising, there simply isn't peace or quiet to string my thoughts together. It's nobody's fault – it's just the crazy times we're living through.
'Mum, my school log-in isn't working!'
'Mum, there's no milk!'
'Mum, I've accidentally pulled down the curtain rail!'
'Mum, will you ask me my French oral questions?'
'Mum, when's dinner?'
'Muuuuuummmmmmmmmmm!!!'
You get the idea. So, I hide in the garden.
The youngest sniffs me out with his telepathic sixth sense. I shoo him away like a cat.
'Can't you see I'm writing?'
'Eh, no?' he says, utterly confused.
I'm writing. I'm definitely writing. But there is no pen, no paper. No computer or hand-held device. I'm not at the making-squiggles-appear-on-the-page part of 'it' yet, that's all. There aren't even proper in-my-head words yet. It's more like mixing together idea ingredients or knitting with thoughts. Sounds mad when I try to describe it, to be honest.
This is the part of the process that sometimes kills me – the torturous what-will-I-write void. Or the tangled web of my-idea-isn't-working. On a good day, though, it's all fizzy popping whooshes of fun – my favourite part of being a writer.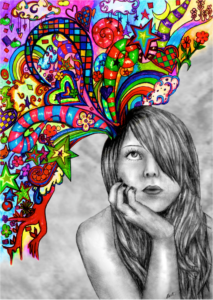 It's something I had to train myself to do, this writing without words. It's like dumping a grown-up in a kids' room and telling them to play, as if they have a clue how to do it. Playing is complex if you're out of practice. It involves loosening something that we always hold tight. Shaking your brain and seeing what falls out. Or staying still for long enough for something wild to land on you. These are things that school/work/life train out of us.
What place has all this got on Kelly's wonderful blog? And what's so important that I'm neglecting my children's French homework to tell you?
It's this. The times we are living through. The school closures, the social distancing, the looming health and economic crises are going to be tough. There are dark times ahead. But I'm a seeker of the bright side.

I can see a glittering creative opportunity here.
We have time. We have freedom. Exams are cancelled. School is cancelled. Social lives are cancelled. Whereas we normally squeeze creativity into the cracks between all the things we stuffed our lives full of, now those things have all evaporated overnight.
This is the time to experiment with new styles and subjects and genres. To write without giving a second thought to what teachers or parents or peers think is good.
Start a notebook.
Fill it, not with finished pieces of polished writing, but with questions and observations and scrappy embryonic bits of ideas that don't yet make sense. They will grow, I promise.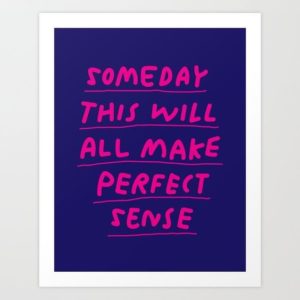 But even before that (in order to NEED a notebook to record the creative chaos), do this.
Find a comfy spot. A sunny one near a window. Or a comfy one curled up with a blanket. And let your mind freewheel.
You have time.
Use a writing prompt if you like. Or just let go. Stop for long enough to see what idea lands on you. Let it grow. Let it fly away again. Another will come.
Don't worry about the outcome. Enjoy the moment. This is not something to measure in productivity or success. This is not a test. It's writing.
Maybe an idea for a character or a place or a poem will appear like a little spark of magic. Or maybe the headspace itself will be your prize. Imaginative muscles need exercising, but they also need relaxing.
And one last word of advice – this notebook should stay private.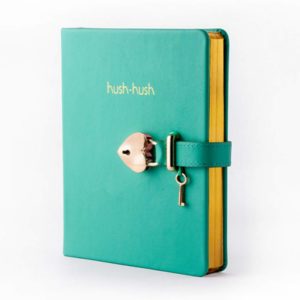 Keep it somewhere where you know no one will read it. It is yours and for your eyes only. That will free you to write what you really want rather than twisting it through the lens of what other people think. I think this is important.
I often wonder whether calling us 'writers' isn't a bit misleading. Shouldn't we call ourselves wonderers? Or maybe questioners? Observers, thinkers, brain-doodlers, imaginers? Because it's only after we've done those things over and over, that we then have something to write down.
Good luck and enjoy the ride!
Myra
Myra Zepf has written 11 books for children, from picture books to a YA verse novel. Winner of two Children's Book Awards from the Literacy Association of Ireland (2017 & 2019), an IBBY Honour Award (2018) and two Oireachtas Awards for Fiction (2016 & 2018), her books appear in 7 languages worldwide. Her verse novel 'Nóinín' is currently shortlisted for the KPMG Children's Book of the Year.